Description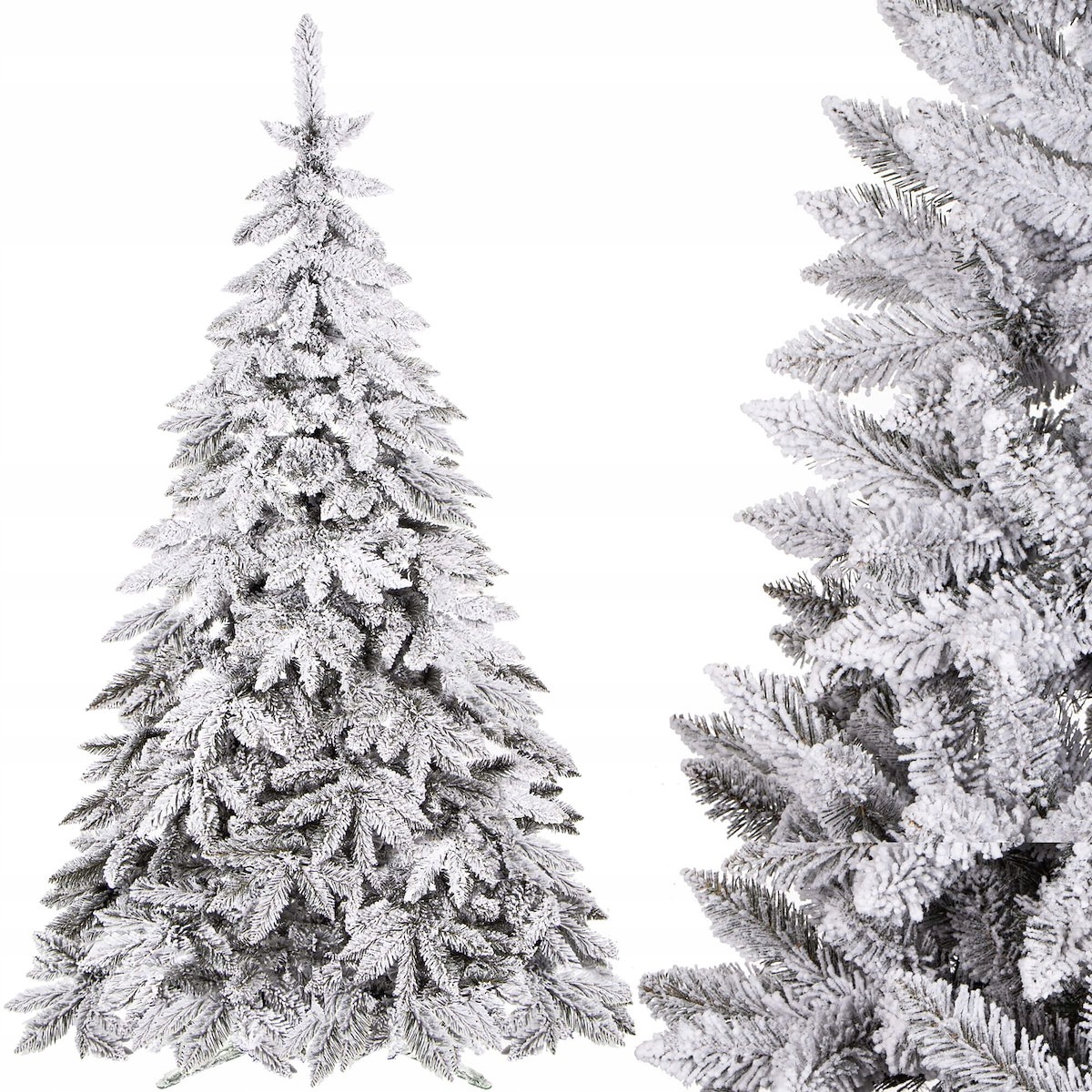 ARTIFICIAL CHRISTMAS TREE CAUCASIAN SPRUCE 180cm
Brand: Springos®
Model: Caucasian spruce
Thorns Material: Eco Foil + Imitation Snow
Height: 180 cm
Colour of pine thorns: natural green + snow
FREE: sturdy stand, storage carton
🔥 GET TO KNOW THE POSSIBILITIES OF OUR TREE! 🔥
The branches of the Springos® Christmas tree can be easily bent in different directions, modeling the successive floors of the tree and giving them different shapes. The individual twigs have realistic and varied ends, and none of them is cut in an artificial and unsightly way. Their color imitates the actual color of conifers in an extremely realistic way and does not fade over time. The carefully hidden wire does not show through the thorns, and at the same time it is thick and durable enough for the Christmas tree to serve you for years!
📌 DISCOVER THE BENEFITS OF 📌 OUR CHRISTMAS TREE
✔️ Premium product – extremely realistic appearance
✔️ Stable stand FREE, suitable for a Christmas tree of this size
✔️ High density of branches and thorns
✔️ A significant amount of free space under the lowest floor for the placement of gifts
✔️ Differentiation of branches – adequately to the height level
✔️ Thickness and durability of wires
✔️ Quick and easy to install
✔️ Storage carton
We offer safe transport of the Christmas tree, which will travel to you in a durable cardboard box, which will also be successfully used for later storage.
🔥 What's more, unfolding our tree is very easy, short-lived and does not require any special effort from the customer – scan the QR code from the packaging and check!
❤ FEEL THE MAGIC OF CHRISTMAS WITH THE SPRINGOS® ❤ CHRISTMAS TREE
With the Springos® Christmas tree – an inseparable element of Christmas – you will spend this magical winter time in an aura of joy and warmth. Our tree is indistinguishable from the real thing! Just think how beautiful the chic decorations will look on it – shiny, sprinkled with glitter, warming up the interior. Even people who don't share the Christmas enthusiasm admit that an ingeniously decorated Christmas tree creates an amazing, stunning arrangement of any interior.
⭐ CHRISTMAS TREE WITH AND WITHOUT ⭐ ORNAMENTS
The biggest advantage of our Christmas tree is its incredible realism and a large number of densely arranged branches. The Springos® Christmas tree, due to its density and captivating elegance, does not require the presence of numerous ornaments, as it is really a great decoration for any interior in itself!
The lowest floor of the Christmas tree is at the right height so that you can easily place Christmas Eve gifts under it. Needless to say, the magical charm of a set of beautifully wrapped gifts lying under a Christmas tree!
🌟ADVANTAGES OF NEEDLES🌟
PVC foil needles, strong and durable, are also extremely pleasant to the touch. Since a Christmas tree – unlike actual trees – does not lose them, there will be no need to vacuum the room regularly. What's more, the needles are evenly distributed along the entire length of the branches, thus guaranteeing a visual density effect, without any clearances.
The only thing that distinguishes this product from a real Christmas tree is the fact that you have a lot less cleaning and you contribute to reducing the felling of trees – an extremely practical solution.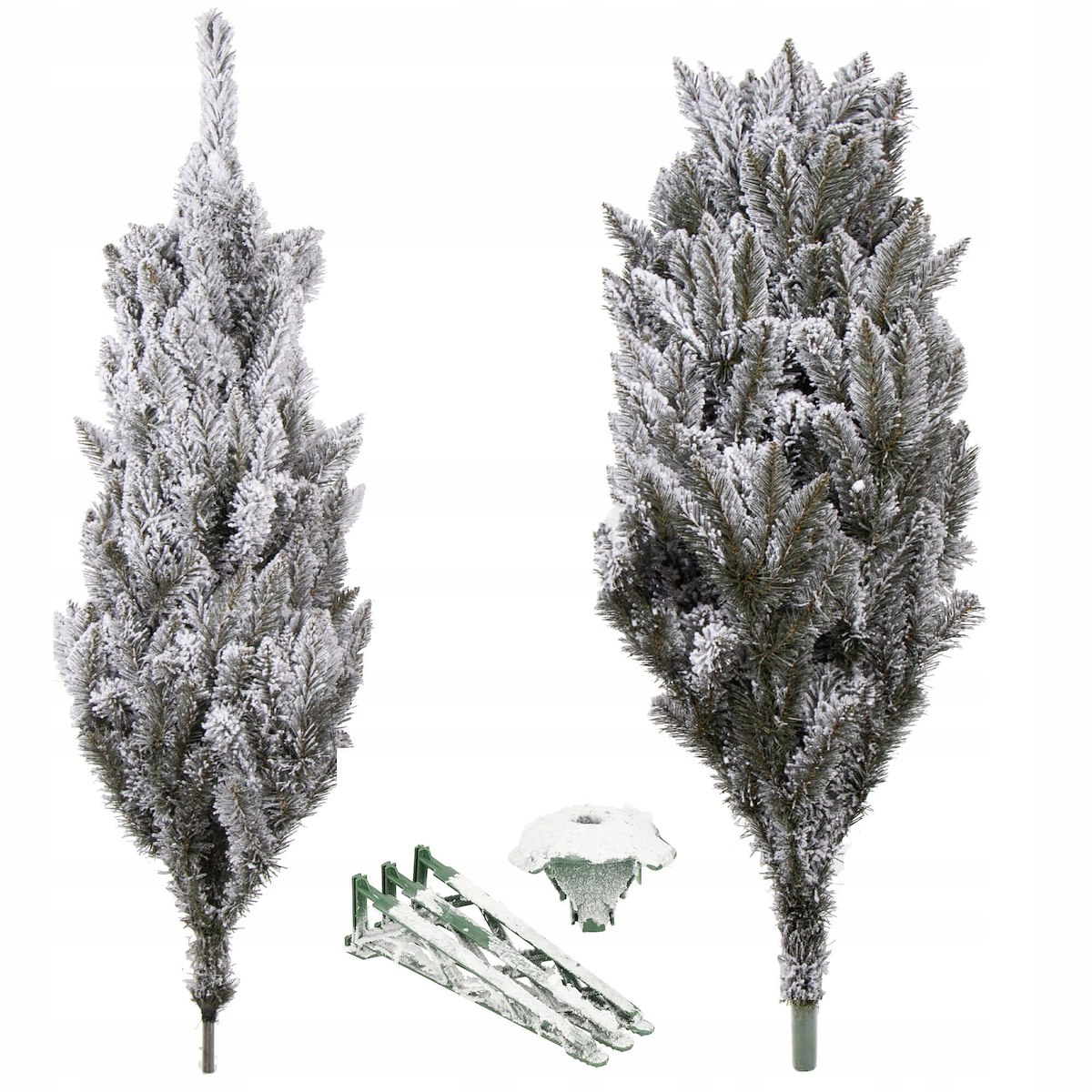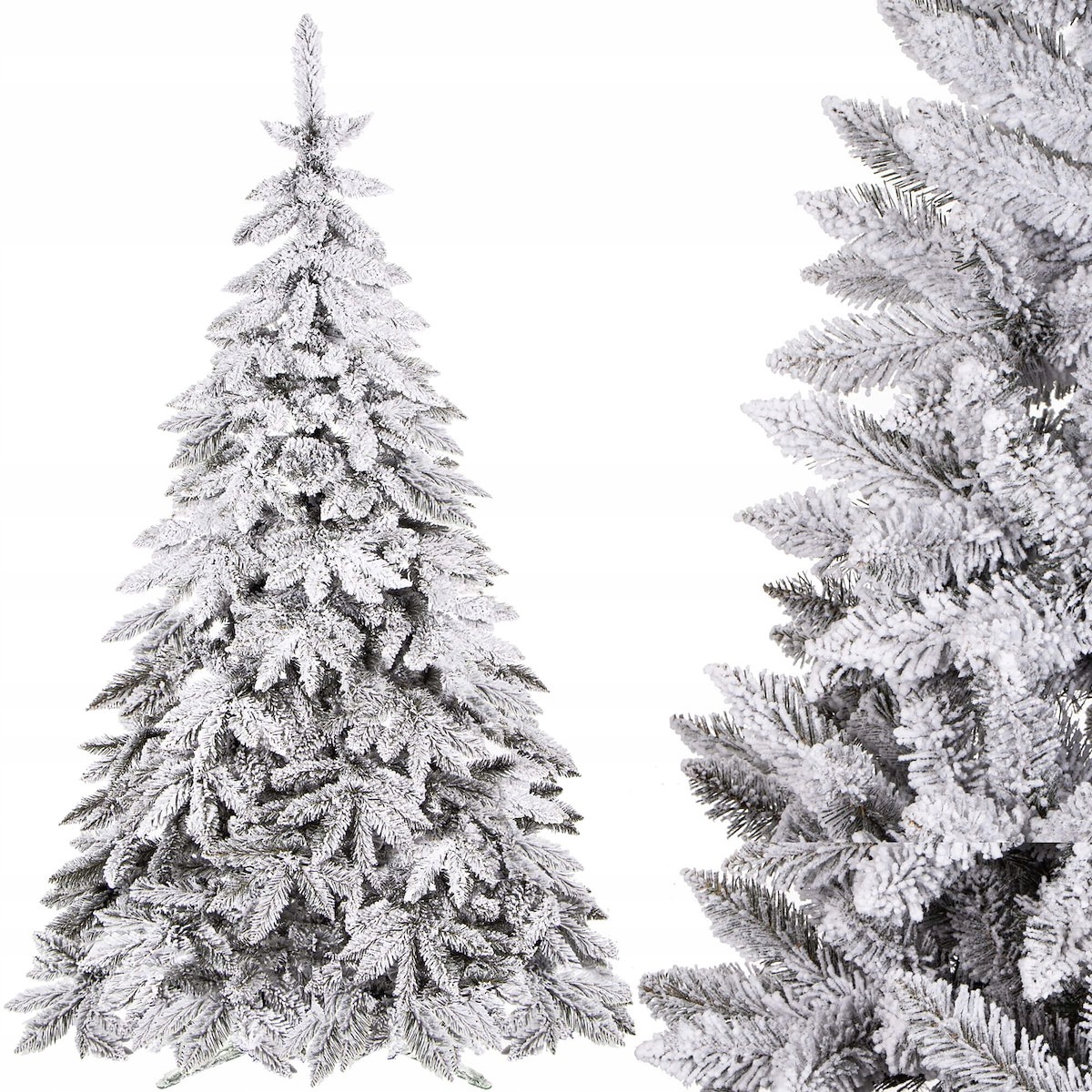 Every Springos® Christmas tree is safe for the environment, and none of them will be a threat to the little ones. You can be sure of the high quality of the presented Christmas tree, because it comes entirely from domestic production.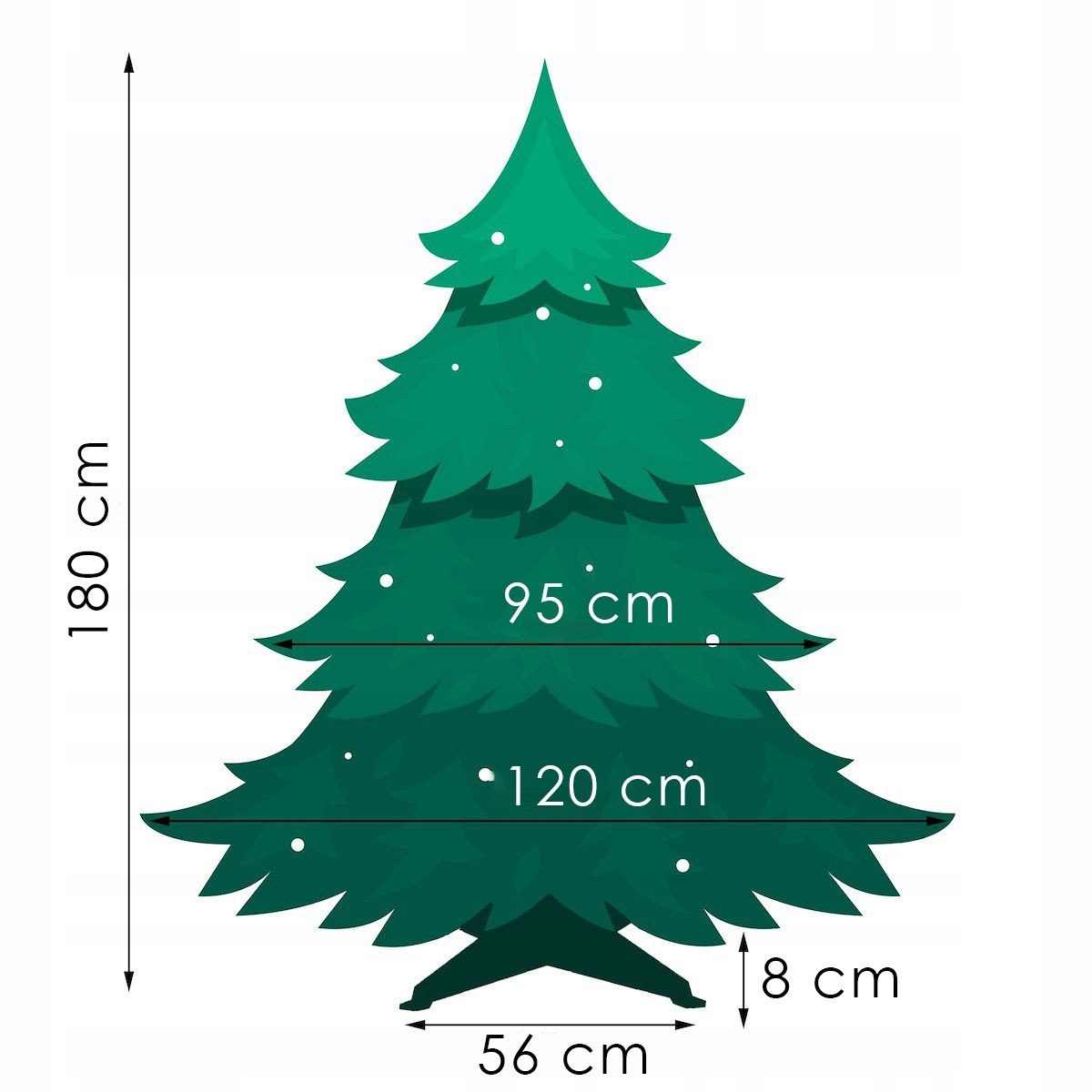 PARAMETERS:
Master data:
Brand: Springos®
Type of Christmas tree: Caucasian spruce
Thorns Material: Eco Foil + Imitation Snow
Colour of pine shorns: natural green + snow
Stand type: plastic, 3 arm
Crown:
Total height: 180 cm
Maximum span: 120 cm
Span measured at a height of approx. 1m: 95 cm
Tip length: 30 cm
Number of levels: 13
Number of branches: 37
Number of tips: 383
Nail width: approx. 5 cm
Distance from the ground to the crown: 25 cm
Branch End: Rounded
Number of elements that make up the crown: 2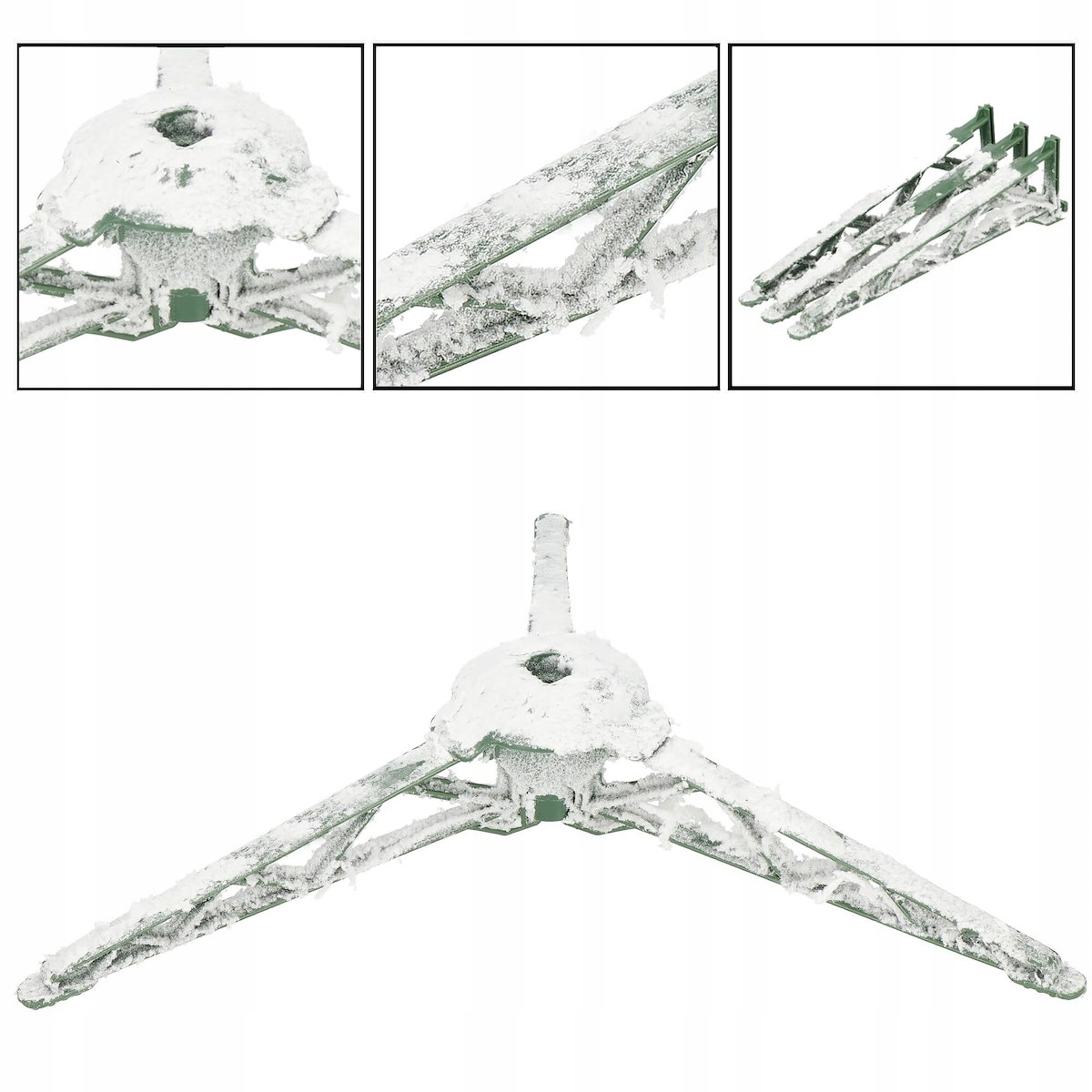 Stand:
Type: Plastic / 3 Arm
Colour: Green
Height: 8 cm
Length of 1 leg: 30 cm
Distance between legs: 56 cm
Additional information:
Weight: 7.5 kg
Package dimensions: 115x26x30 cm
A product for self-assembly
Snowmaking
Important: To achieve a satisfactory result, the branches should be laid out and shaped with due care.