Description
CURTAIN TWO-COLOR PENDANT LIGHTS LIGHT 300LED 3X3M REMOTE CONTROL – WARM YELLOW AND COOL WHITE 2IN1
TWO-TONE | 11 LIGHT MODES | LIGHTING TIME SETTINGS | BRIGHTNESS ADJUSTMENT | REMOTE CONTROL | EXTERIOR AND INTERIOR USE
Specification:
LED curtain 3m x 3m,
Voltage: 5V,
Colour: Cool White/Warm Yellow
LEDs: 300 LEDs,
Control: remote control,
Power supply : cable , USB output
Programmer with 11 light modes, (11 modes: combination; In waves; Sequence; Slow glow; Pursue; Fade; Flash; Fixed)
Power supply: USB – can be connected to a charger so that the lights are powered stationary or use e.g. a power bank
Lights on copper wires,
Material: copper wire, waterproof and insulated,
Waterproof: IP65 waterproof
The set contains:
LED curtain,
Remote control,
HOOKS
5 reasons to have one:
✔️There are two beautiful colors on the led curtain lights, which can be switched to meet the decoration of different occasions
✔️300 LED lights are bright, and one LED light has two colors that you can switch to your favorites. Also with the remote control you can change the brightness
✔️Use the remote control to change the colors, with timer dimming function and memory function, the led curtain lights can decorate wherever you want
✔️Each string of curtain lights comes with a hook, which is convenient for hanging the lights. All you have to do is hang the main string of lights first and then untie each strand
✔️Waterproof curtain lights are suitable for outdoor decoration, the adapter is IP44 waterproof, please keep it dry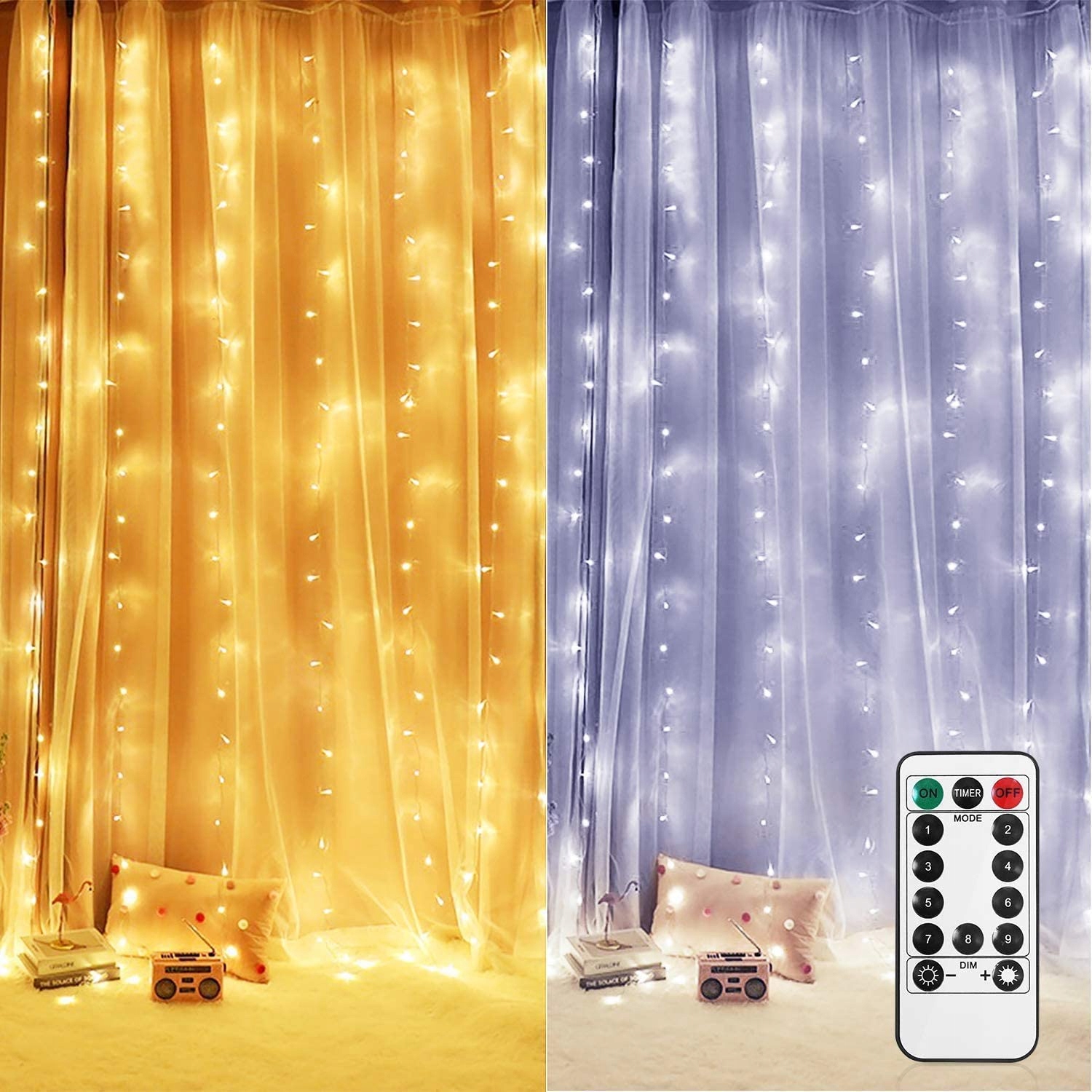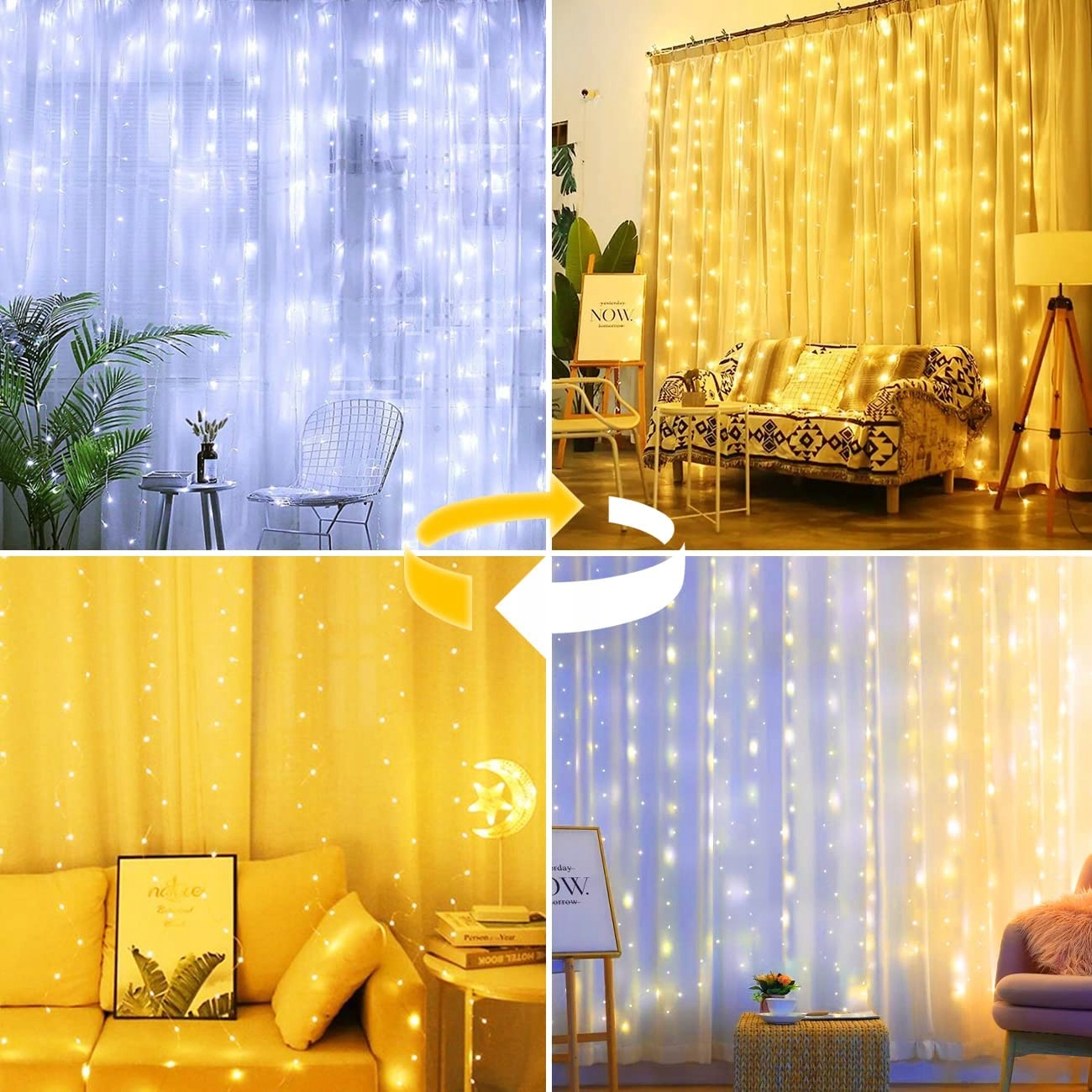 Resistant to weather conditions
The light curtain presented at our auction can be used both indoors and outdoors, it is resistant to low temperatures. For this reason, LED lights can be used in many places, such as:
Outdoor activities in the garden
in the rooms of the house(bedroom, living room, bathroom)
public places, e.g. restaurant, cinema.
when organizing events, e.g. weddings, birthdays, Valentine's Day.
Thanks to the LED curtain, they will create a beautiful and cozy atmosphere
Do not expose the remote control and USB end to direct weather conditions.
It is recommended to buy multiple to use together for better effect
Create an amazing atmosphere!
Mirko LED curtain lights are cheap and environmentally friendly decorative lighting!
The curtain is designed for people looking for spectacular decorations.
Make your house or garden shine in the evening A pleasant evening to spend in front of atmospheric lighting.
A veranda, patio, conservatory? A terrace, a porch, or maybe a bathroom or a living room? There are sure to be plenty of places where the curtain will fit perfectly. Let your imagination run wild!
Don't wait… The price usually increases in high season!
Remember that you can also use this curtain to illuminate the Christmas tree or create a backdrop for unforgettable photographs.
LEDs do not generate heat or UV light. Electricity consumption is extremely low compared to incandescent bulbs (up to 90% savings).
Burning out the diode does not extinguish the entire set.
Convenient and functional remote control
The light curtain is equipped with a wireless remote control, so from now on you won't have to go to the LED lights to set them up. Thanks to the remote control, the operation of the curtain will be very comfortable and pleasant.
The remote control allows you to use functions such as:
Setting the lighting time of the lamps,
Brightness adjustment,
Setting the type of light (11 modes),
Turning ON/OFF.
With the remote control, you can select your favorite lighting modes within a radius of 10 meters and adjust the brightness to your needs (10 brightness levels). The lights turn on for 6 hours and turn off for 18 hours automatically when the "TIMER" button is pressed.
KEY DESCRIPTION
HE/ Turning on the curtain
TIMER OFF / Disabling the sleep timer
OFF/ Turning off the curtain
MODE 1, 2, 3, 4, 5, 6, 7, 8, 9, 10, 11 / Changing the light mode
6H, 8H, 6639H / Changing the Switch-Off Time
DIM-/ Darken
DIM+/ Dodge
The remote control is included in the set and is ready to work.
Power Saving & USB Power
The LED curtain is powered by USB, so you don't need direct access to electricity to illuminate it. To activate it, you can use:
Power supply
power bank,
Laptop.
The curtain is equipped with LED lights that consume a minimum amount of energy, which makes working on them prolonged and trouble-free.
In addition, the USB end contains a programmer (blue button) that replaces the remote control and allows manual access to all its functions from the button position. This is very helpful for outdoor work lights.
We recommend using a 5V 1A-2A USB adapter. The buttons on the USB can turn on/off and control the mode.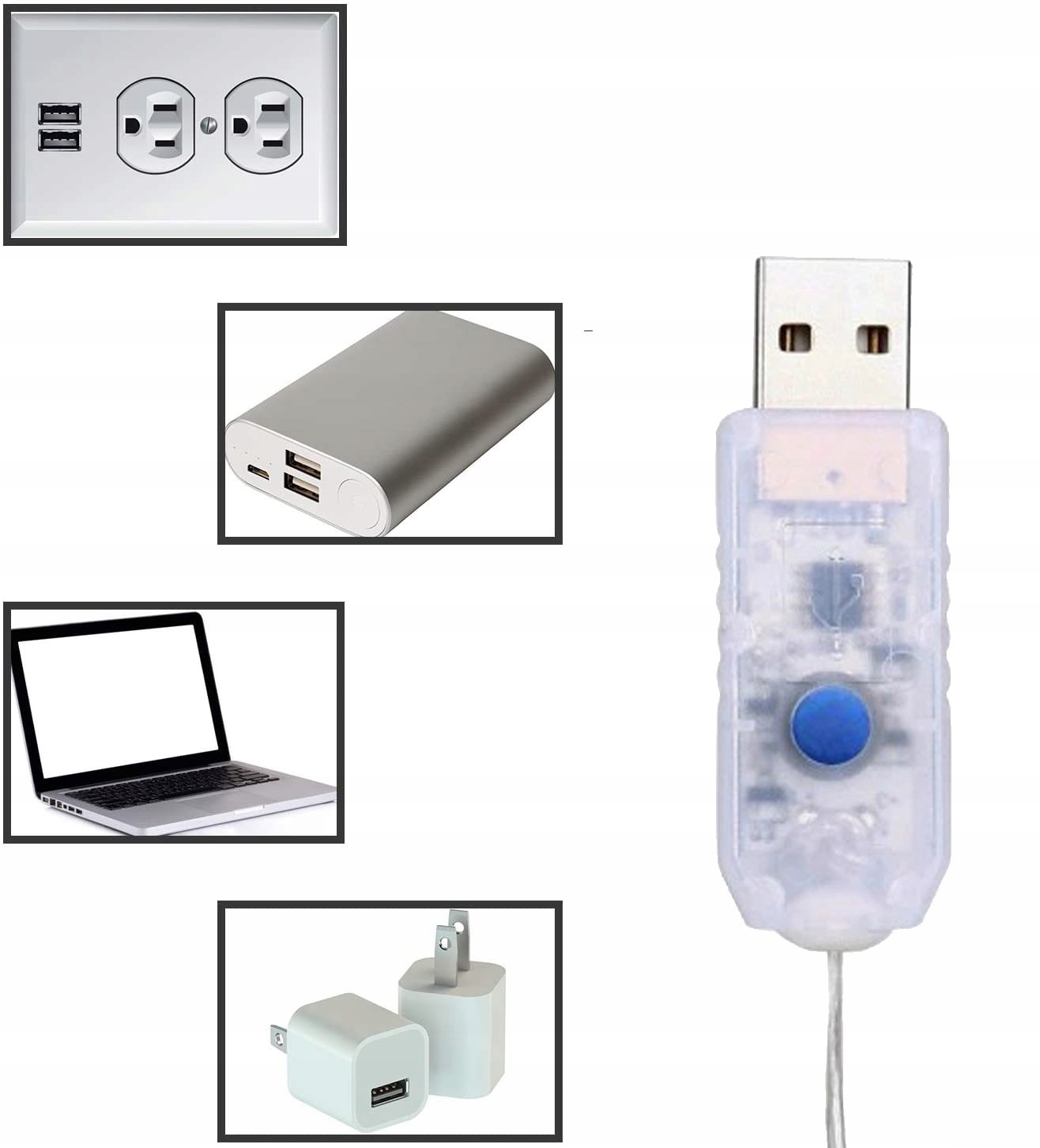 Take care of the safety and reliability of the light!
The lamps do not have sharp edges or glass that shatters when impacted. Low energy consumption will save you money and provide excellent lighting throughout your home. The lights burn at a low temperature, so you don't have to worry about any inconvenience.